The Bean blanket, he is done. No pictures. I think

it's fair if Refried Bean's

mom gets to see it before you do.
And here's the finished Bafana Bafana
WCS
.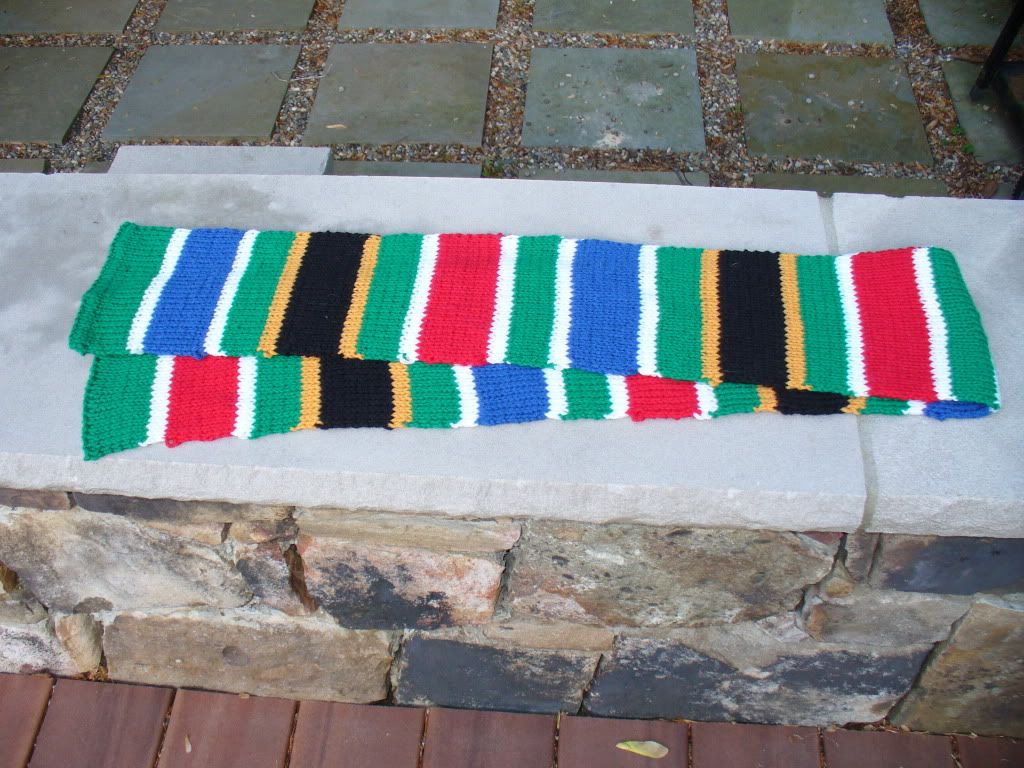 Still no guesses about which country Bafana Bafana represent? I wove in all those ends and no one will hazard a guess for me? Hmph.
The World Cup starts in abut six weeks and I have three(or maybe four) scarves to go, so I haven't been working on much of anything except WSC lately. I've started the sleeves of the pink cable cardigan:
I thought if I worked them at the same time, they would come out even. I'm starting to worry that if I've miscalculated how many rows it will take to get the length I want, I won't know until I've nearly finished them both and then I'll have to rip out two instead of just one. I deal with this by checking my math over and over and by asking
Rain
The Man for his arithmetical opinion and still not feeling confident. But hey! Ima just doing scarves right now, so that's another problem for another day.
I needed a little more red for La Furia Roja, so I went to the LYS and somehow I came home with six skeins of a wool/silk blend that might make a nice scarf or two.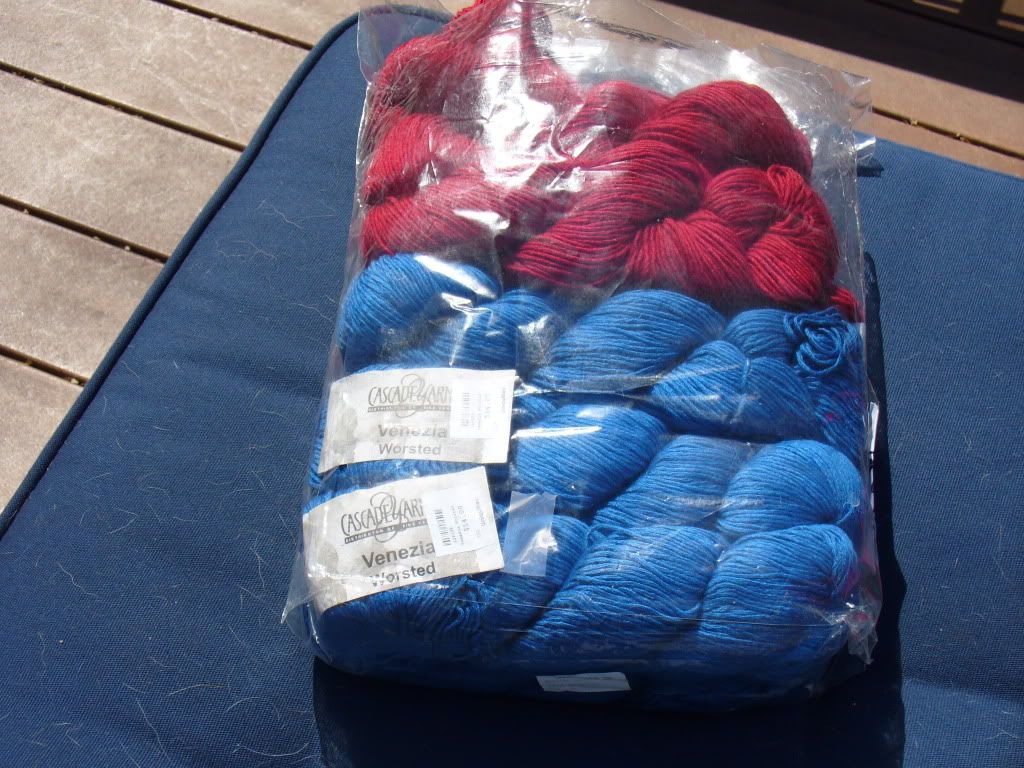 I was thinking wrap or shawl but I only have 600 yards of each color and that's not enough. I don't really like the scarf idea and I think I'm going to end up with more of this before it's over. Another problem for another day.
What ho? Where did this come from?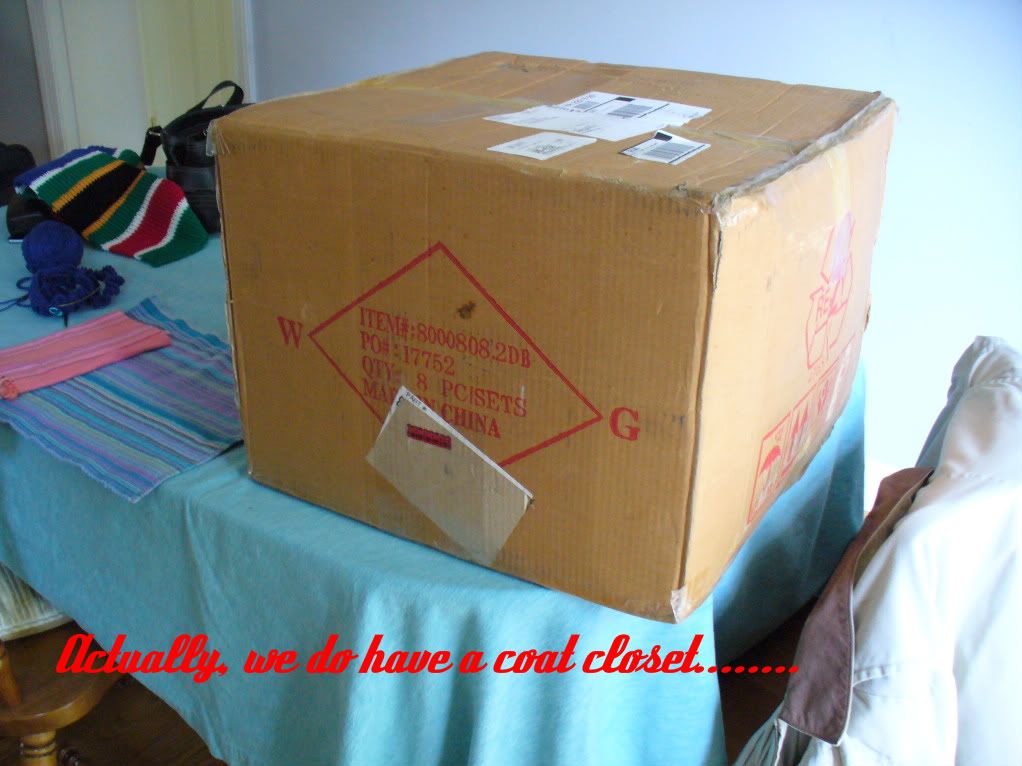 It came from
here
. (When I wrote this, my aunt was pictured on the home page holding new lamb Oneder, but eventually there will be new photos). As I have written before
but am too lazy to look up now
, me auntie runs a non-profit farm that does animal-assisted therapy and some animal rescue. They need money. Send them some.
Anyhoo, one of the farm's fundraisers is a silent auction and I've been giving them some knitted stuff for the last few years but now things are different.
Different how?
I'm glad you asked. Different because of this: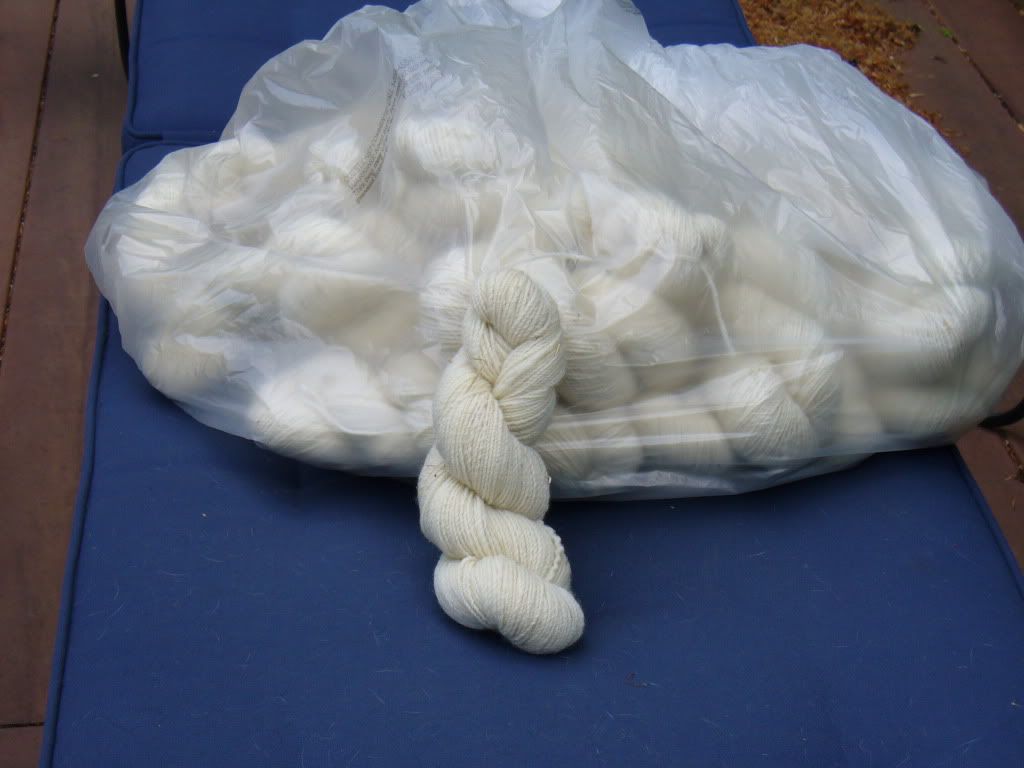 That, my friends, is a honkin huge pile of wool from the farm's sheep. That's enough for several sweaters or a blanket or a whole bunch of mittens.
Also: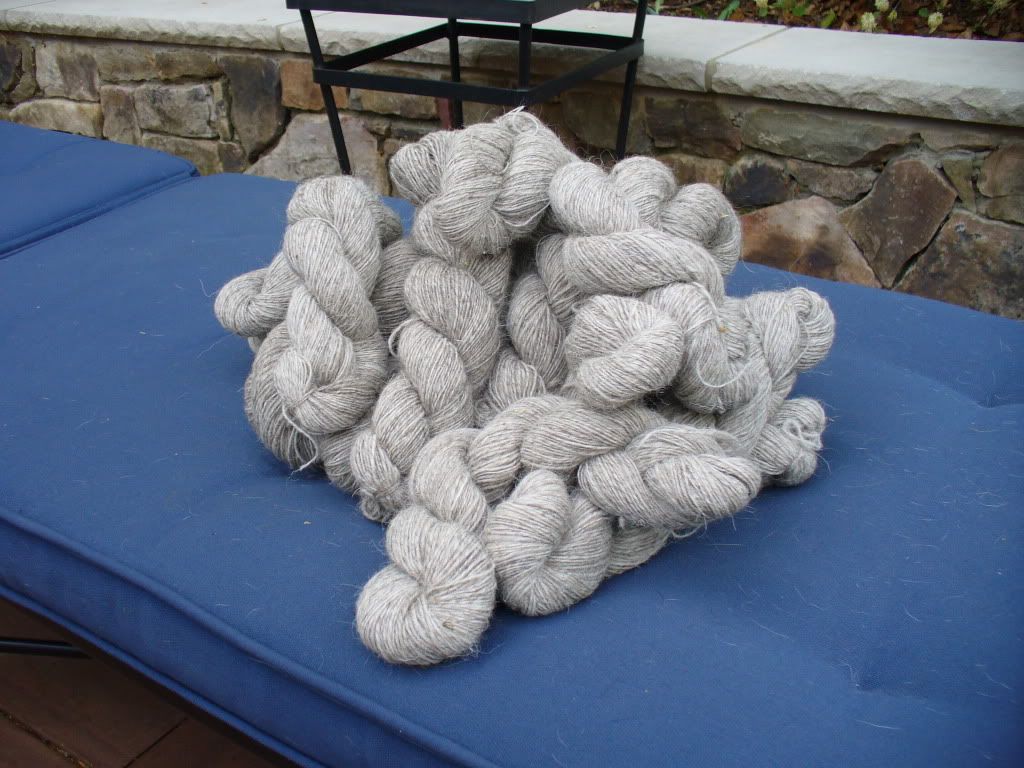 Some of the sheep are grey.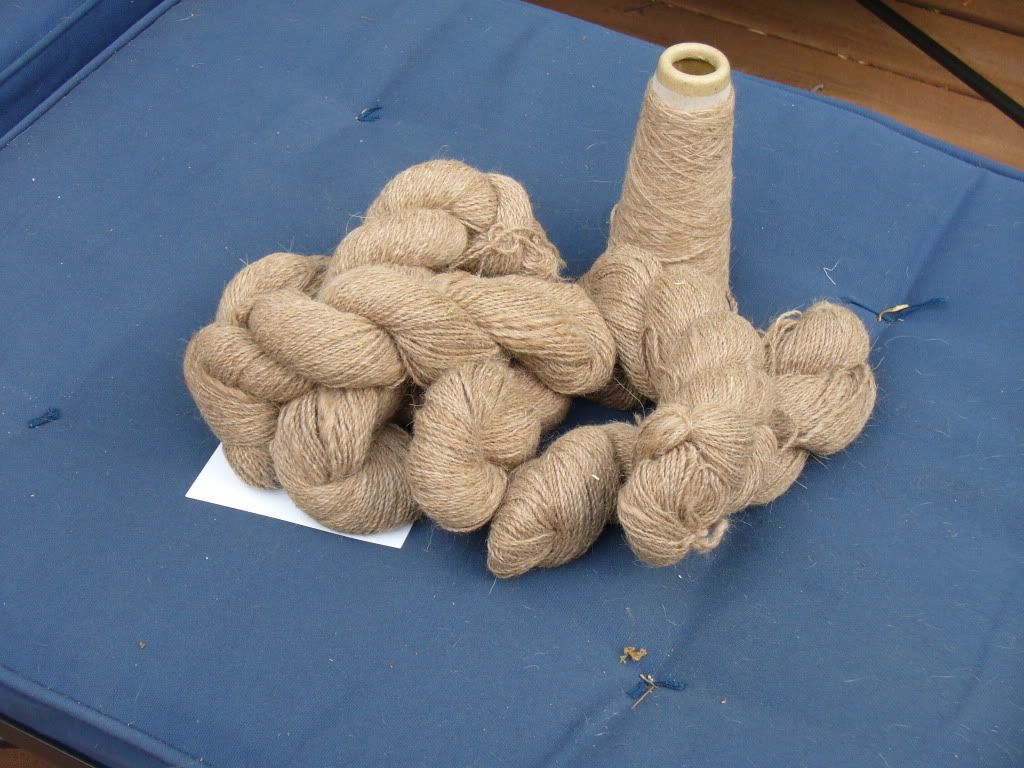 And some of the sheep are llamas.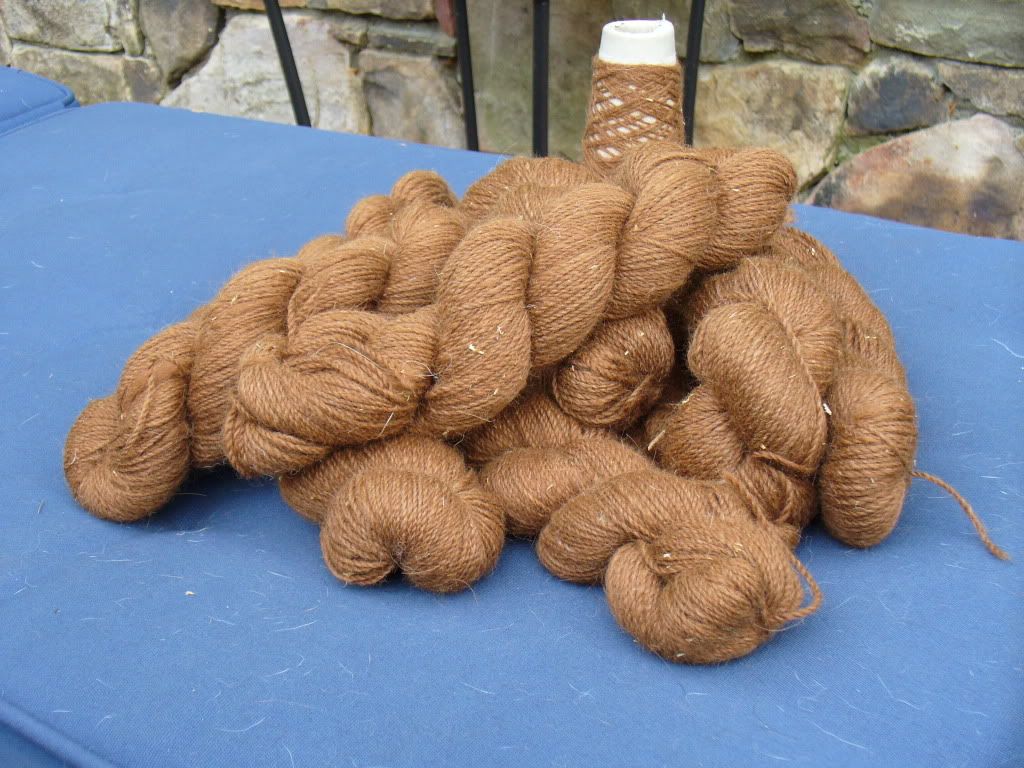 And some of the llamas are alpacas.
This is so awesome I can hardly describe it. First, it smells like animals, okay, and not like a yarn factory. And look! It has twigs and leaf bits and all kinds of stuff in it, just like real wool from the olden days!
BRB. Doing
snoopy dance
.
O. M. G. What on earth am I going to do with this? If I'm sending it back to the farm so people can buy, say, a sweater from their favorite sheep, it needs to be good. It's a little scratchy now. How will it feel after it is washed? Can I use it fr things meant to be worn next to the skin? How do I wash it without destroying it? It's woolen-spun two-ply. How much will it bloom? How will the bloom affect stitch definition? If it won't show stitch definition well, then how do I choose a pattern that's special enough? If I make a sweater, will it be too heavy to hold its shape? Will it be too hot to wear? It will probably end up in New England somewhere, so how does the difference in climate affect the hot-ness of the potential sweater? I think it's DK weight. What gauge will it do? I won't how much there is really (yardage, yes, I know the yardage) in terms of what it will be enough to make until I know the gauge.
So many questions! Clarabelle demands that I drop everything and find the answers naow, but I think I'm going to shove it all in a closet and not think about it until I finish the WCS.
This post powered by cold feet and unnecessary worry.